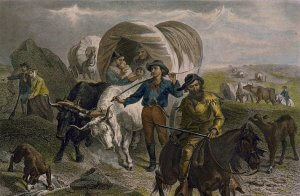 One of the most infamous attacks against the early European settlers of Texas happened north of Leander Texas as the settlers were out close to the Pilot Knob Vineyard outside Bertram Texas.
In the late summer of 1839, John Webster and his family set out from Austin Texas with a group of 13 men towards modern-day Burnet County to survey land that they intended to settle and build a fort.  They were able to see a large group of Comanche Native Americans between the North and South forks of the San Gabriel River, just north of what is now Leander Texas. Webster and his group decided to turn around to seek the shelter of pioneers already settled along the Colorado River. After retreating all through the night, a wagon wheel broke early on the morning of August 27, 1839.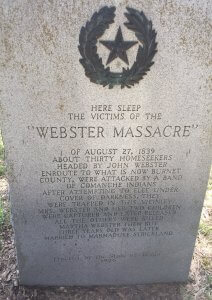 Fearing pursuit, Webster and the men formed a defensive square with their four covered wagons. They had made it to the banks of the Brushy Creek but not far enough down stream to receive help from the other pioneers. At dawn, the survey party was attacked by the Comanche. John Webster and his men fought bravely for several hours against as many as 900 Comanche warriors until the last man was killed some time around 10 to 11 AM. John's wife Dolly Webster, and his children Virginia and Booker were captured and held prisoner. After two years, Dolly was able to escape with her daughter. Her son was also eventually released in exchange for a ransom.
As news of the devastating massacre spread, Colonel Edward Burleson gathered about 50 volunteers in Bastrop and set out to pursue the Comanche who had slaughtered these pioneers. They found the deceased and buried them at the scene of the battle near Brushy Creek. This area is now known as Davis Cemetery, but there's no sign from the road to indicate its presence.  The small cemetery is located just east of Centex Plaster, 9220 Ranch Rd 2243, Leander, TX 78641. Colonel Burleson and his men pursued the trail of the Comanche until it had become clear that they had disbanded in several directions.
** Please note that there are differing versions of the exact details of the Webster Massacre. This article was written from the accounts included from J.W. Wilbarger's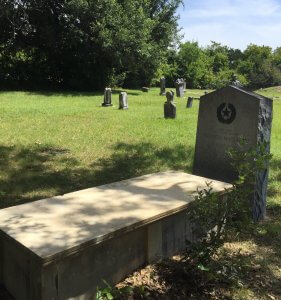 book, Indian Depredations in Texas and Stephen L. Moore's Savage Frontier.
I love to go to the Davis Cemetery in Leander on 2243 and visit the mass grave of the Webster Massacre victims.