Here on my Texas Historic Homes website you can search for your very own Texas Historic Home in many Central Texas towns and cities. On Texas Historic Homes I also delve into Historic Texas Town Squares and Courthouses, Historic Hotels, Historic Bed and Breakfasts, Texas History, the DRT, Living History Centers, Historical Sites, Historic Texas Cemeteries, Geneology and more.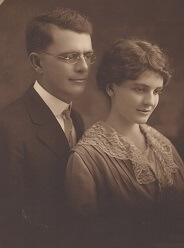 I am a Native Texan whose roots go back to at least 1835 in Texas in pre-Republic of Texas days when it was a part of Mexico called Coahulla y Tejas. My ancestor, Anton Menke Pieper was a young boy in those days. His mom, Elizabeth Dedich Pieper was killed by marauders leaving Peter Pieper to go to get his land grant with just the two children, Anton and his sister. I have two 1842 Colorado County Texas maps that show the Peter Pieper land grants.
Another Republic of Texas ancestor is Valentine Hoch of Hochheim Texas who was also here when Texas was a Republic. My grandfather, Dr. Carl William Raetzsch is a descendant of Valentine Hoch, a son of the Republic of Texas. My grandmother, Alice (Pieper) Raetzsch is a descendent of Anton Pieper. My grandfather was educated in medicine at the 1891 Romanesque Revival styled Ashbel Smith building called Old Red in Galveston, Texas. This was the original building for the University of Texas Medical Department. After his education, my grandfather practiced medicine on the Square in San Marcos, Texas in Hays County. In 1917 the Raetzschs built and moved into a home at 127 Rosemary in Seguin Texas, Guadalupe County.
In the Austin Texas area of Travis County my roots go back to 1871 with my Swedes who immigrated here from the Smaland area of Sweden where IKEA comes from. Gustaf Ax was the church secretary of the New Sweden Lutheran Church in New Sweden Texas which is between Manor Texas and Pflugerville Texas.
I love to travel to historic areas of Texas in all cities, small towns and regions of Texas photographing historic homes, historic barns and town squares along the way. Let me help you find your own Texas Historic Home. I would be honored. There are some towns the have very few historic homes and some that have a lot. Some areas have very resonably priced historic homes and some areas are uber expensive historic homes because of location. Some historic homes have amazing original features and others have had the historic remuddled right out of them – gasp. Whether you are looking for Mid Century, Mid Century Modern, Victorian, Craftsman or other historic home architectural styles, I can help. I attend many Historic Homes Tours each year and I am a Certified Historic House Specialist with Advanced training.
I love historic homes and it shows. I get chills and thrills at the Texas historic homes I get to work with. Other Texas homes are just basic housing, and I am proud to help people with those too, nothing wrong with them. We all need a roof over our heads. It's just that there can be so much RIGHT with a finely crafted Texas historic home that I am in awe of them. Just the old growth timber is so amazing! Old growth wood is so dense that a hole must be drilled in the lumber before putting a nail in. Homes that are 160 years old and still as sound as the day they were built, protecting their inhabitants from the elements and holding so many memories of treasured times. I am a member of many historic preservation and Texas history organizations. I am on the Board of Directors for the New Braunfels Texas Heritage Society which oversees the Museum of Texas Handmade Furniture that is housed in my grandmother Alice Raetzsch's grandparents' German fachwerk home. I am a member of the Texas State Historical Association; an Associate member of the Daughters of the Republic of Texas, Martin Wells Round Rock Chapter.
If you are a buyer, Betty knows how to write winning offers, she has winning lenders to choose from in this tough seller's market. If you want to buy a great house, you need the inside information to compete against multiple offers.
If you are a seller, call, text or e-mail Betty early. She can save you money and time and get your house on the market fully prepared so it will bring the highest dollar in the shortest amount of time. Betty has been helping sellers get homes ready to sell since 1997. She has the skills to negotiate multiple offers and get you the best terms in today's real estate market place.
Contact Betty Saenz today to discuss your real estate needs and questions.
Texas Real Estate Commission Consumer Protection Notice 
Texas Real Estate Commission Information About Brokerage Services