While much of the European settlement of Texas has been well-documented and remembered in our history books, African settlements in Texas are less remembered and not well known. Dr. Andrea Roberts from Texas A&M University founded the Texas Freedom Colonies Project to identify and map these black Texan communities.
What are Texas Freedom Colonies?
After the Civil War, many former slaves and poor whites became trapped yet again in another exploitative system called sharecropping. Sharecropping helped wealthy white landowners maintain economic control of the South after the end of slavery.  But some enterprising and independent-minded former slaves settled on pockets of unclaimed land that had been considered too poor for farming and turned them into successful family farms.
These black-owned farms became communities with their own cultures. There were hundreds of these "Freedom Colonies", or "Freedmen's Towns", across Texas between 1865 and 1920. In these self-sufficient rural communities, African Americans created a safer place for themselves, away from the discrimination and violence that routinely prevented blacks from advancing in the Jim Crow South. Landownership rates among African-American farmers in Texas rose rapidly from 1.8 percent in 1870 to 26 percent in 1890 to the all-time-high of 31 percent soon after 1900, according to historian Thad Sitton.
Texas Freedom Colonies Near Austin
Where I live, in Williamson County, Texas, two Freedom Colonies have been identified. The Miller Community also known as Jenks Branch was located near present-day River Ranch Country Park off Highway 183 in Liberty Hill, Texas. Rocky Hollow was not far away near the current corner of Ronald Reagan Blvd. and Andice Rd. in Georgetown, Texas.
In Travis County (where most of Austin is located), ten Freedom Colonies have been documented. Wheatville, Clarksville, Robertson Hill, Masontown, and Burdett's Prairie also known as Montopolis are all near the center of Austin, Texas. Kincheonville is off of Brodie Lane. Webberville formed part an existing small town still known by that name. Littig is still a small community on Littig Road in East Travis County. The Pflugerville Colored Addition was located right across from Pflugerville High School and now has a shopping center full of small business like Central Texas Animal Hospital and Creative Kids Preschool.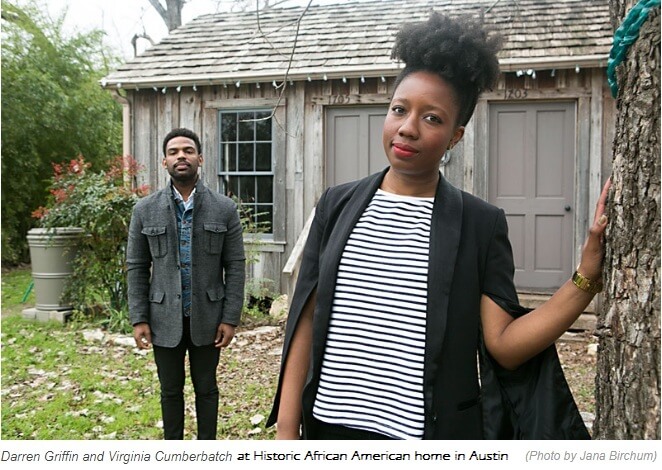 Most Texas Freedom Colonies Gradually Disappeared
A variety of factors led the descendants of the Freedom Colonies to eventually disperse including: The Great Depression, World War II, and the Civil Rights movement. With industrialization, many people of all types migrated to the big city. They left behind the farms, structures, and populations associated with early African American towns that have nearly disappeared. Only 3 of the 12 settlements near Austin are still visible in any meaningful way. Some are still remembered and honored in annual celebrations like Juneteenth. Land stewardship and oral traditions also help sustain enduring commitments to these black settlements.
Restoration and Preservation
While many Texas Freedmen's towns have disappeared, there are still Texas historic homes that have survived. Dr. Andrea Roberts and the Texas Freedom Colonies Project are working together with local and state government agencies, nonprofits, historical associations, and private individuals to save historic homes and other properties. She is also working to help the descendants of these communities maintain ownership of their historic homes and land. Real estate ownership, especially over the long term, is considered a strong foundation for wealth creation and economic advancement.
What is the Texas Freedom Colonies Project?
There are no comprehensive studies or documentation of the black Texan experience in these towns or even an official atlas of their settlements. The Texas Freedom Colonies Project is a research and social justice project dedicated to filling that gap of scholarly work and historical record. The Project documents how former slaves built whole communities after emancipation and identifies what planners, preservationists, and social justice advocates might learn from our first African American placemakers and their descendants.
In the future, The Texas Freedom Colonies Project will coordinate mapping projects, settlement assessments, develop evidence-based interventions, host conferences, and provide technical assistance to descendants and planning agencies. The Project is affiliated with Texas A&M University's College of Architecture-Department of Landscape Architecture and Urban Planning, Center for Heritage Conservation, and Institute for Sustainable Communities.
The Texas Freedom Colonies Project mission is to build a growing interactive digital humanities website with a database and map of 558+ Texas Freedom Colonies, document descendants' origin stories and contemporary preservation of settlements, churches, schools, and cultural landscapes, detect strategies descendants use to prevent land loss and build inter-generational wealth, document traditions used to transfer cultural and social memory to youth, conduct interviews and record events in which preservation is performed, publish scholarship, policy briefs, and reports, and co-plan and engage in participatory planning research with communities.
They have already met one of their primary goals. The Texas Freedom Colony Atlas went live in July 2018 and shows on one map where the known colonies existed.