There are many Historic Homes Tours in Texas. I wish all the special Holiday Home Tours in the Central Texas and Austin Texas area were held at different dates and times so I could schedule to see them all! Austin, TX; Dripping Springs, TX; Georgetown TX; Lockhart, TX; Taylor, TX and San Marcos, TX are some of the Central Texas towns that regularly hold special Holiday Historic Home Tours. I recently went on the Georgetown and Taylor Holiday Tours. I also went on the Historic Home Tour that Preservation Austin held in April and the Mid-Century Modern.. I also have attended the Gingerbread Historic Home Tour in Waxahachie TX as well as toured many historic homes in Dallas TX with Preservation Dallas. Galveston Texas holds its Historic Homes Tour every May. In addition to Historic Home Tours, there are many other Historic Texas buildings one can go tour including churches, courthouses, jails and more. I highly recommend the Painted Churches Tour out of Schulenburg Texas and seeing other Painted Churches of Texas as well. Texas Historic Courthouses are also fun to tour and I know the Waxahachie Texas Courthouse is open for tours. I have also toured Texas Historic Jails such as the one in Lockhart Texas and the Gonzales Texas jail. If you are interested in touring Texas Historic Homes, follow these links to locations and organizations that hold historic home tours throughout the year.
Texas Historic Home Tours, Holiday Tours and Spirits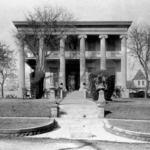 Austin TX – Perhaps the most famous historic home in Texas is the Governor's Mansion. The Greek Revival style mansion was built in 1856 and designed by Abner Cook. Reservations are required at least one week in advance. Visit the Governor's Mansion website for more tour information.
The Neill-Cochran House is another historic two-story Greek Revival home designed by Abner Cook in Austin, Texas. They're open for tours in the afternoons. Check out their website for more information.
The 2018 Historic Hyde Park Homes Tour will be held on Sunday, November 11 from 11 am to 5 pm. This annual event draws visitors from all over Central Texas to learn about the history of neighborhood through touring the homes that make Hyde Park unique. For more info please visit the HPNA Facebook page https://www.facebook.com/austinhydepark/
Bastrop TX –  Holiday Homes Tour  takes place on December 8th, from Noon to 5 pm. This year there are six homes on the historic home tour– circa 1850 to a "new old house" fashioned in 1985 to resemble a classic log cabin. Early Bird tickets are available until November 15, 2018 for $15 per person. Online tickets may be purchased through November 30th HERE, by US mail, or by telephoning the Bastrop Museum & Visitor Center (904 Main Street) at 512-303-0057 or 512-303-0904. Regular price admission is $20 per person.  Accompanied children under 12 years of age are admitted free. On the day of the tour, tickets may be purchased at the Museum & Visitor Center or any of the tour sites. Proceeds from the tour fund the operation of the Museum and Visitor Center.
Fredericksburg TX – Fredericksburg Texas has more than one historic home tour. On Saturday, December 7th 2019 the 62nd Christmas Home Tour and Market are being held in Fredericksburg Texas from 11 am to 5 pm. For more information, visit the Pioneer Museum web site http://www.pioneermuseum.net/
The Historic Fredericksburg Foundation is hosting the 49th Annual Holiday Candlelight Tour Saturday and Sunday, December 14th and 15th 2019. Daytime tours are being held from 11:00 am to 5:00pm on Saturday and Sunday. On Saturday evening there will be tours held from 6 to 8 pm. Each year there is a commemorative ornament and other items for sale in the Candlelight Tour Gift Shop. Saturday Evening tour tickets include a Cocktail Party. For more information visit the Historic Fredericksburg web site https://hffi.org/holiday-candlelight-tour/
Fredericksburg Texas is home to many fine historic homes, buildings and many museums. Frederickburg Texas is also home to the Native Plant Society of Texas or NPSOT.
While in Fredericksburg, plan to visit the Admiral Nimitz Museum, the Pioneer Museum, the Texas Rangers Heritage Center http://trhc.org/ at Fort Martin Scott and other historic sites.
Also in Fredericksburg, the Zweite Weihnachten, or Second Christmas, is held at the Gillespie County Historical Society Social Hall (312 W. San Antonio  Fredericksburg, TX). Sponsored by the Fredericksburg German Club, this event features food, drink, and music. The 2018 Zweite Weihnachten will be held December 26, 2018 from 2-5 pm. Free admission. Call (830) 997-6289 for more information.
Galveston TX – Galveston has many historic home events each year including an annual Galveston Historic Homes Tour. Galveston Texas has so many historic homes, buildings, neighborhoods and even ships. For more information, go to the Galveston Historical Foundation web site . My grandfather, Dr. Carl William Raetzsch received his M.D. from the University of Texas Medical Department in Galveston Texas. He attended classes at Old Red, the beautiful 1890 Ashbel Smith Building, still there today. Old Red is now billed as the oldest medical school building west of the Mississippi.
Dickens on the Strand in Galveston, highlights downtown Galveston's Victorian-era architecture and celebrates Charles Dickens. Put on by Galveston Historical Foundation, events span November 29 – December 3, and include appearances from some descendants of Charles Dickens at a Dickens Champagne Reception at the 1838 Menard House and a Salute to Sunset aboard the tall ship ELISSA. Ticket prices vary by event. Purchase your tickets and RSVP at the Dickens on the Strand website.
Georgetown TX – The  Preservation Georgetown Holiday Home Tour is typically held in mid-December in Georgetown Texas. For more information contact the Preservation Georgetown.
Take a Christmas Stroll through Historic Downtown Georgetown. This 38th annual, two-day event features a hometown holiday parade, Bethlehem Village, live entertainment, food court, ice skating, and over 100 arts and crafts booths, along a route of the Victorian-era buildings and brick sidewalks that make up Historic Georgetown Square. The fun begins Friday, November 30th from 5 – 9 pm, and continues Saturday, December 1st from 10 am – 8 pm (parade kicks off at 10 am on Saturday).  Free admission.
Gonzales TX – The Winterfest Historic Homes Tour is held in Gonzales Texas, often on the first weekend of December. I plan to go and stay in a historic Bed and Breakfast while there. Tickets are $20.00 and are available through the Gonzales Chamber of Commerce at 414 Saint Lawrence Street, Gonzales, Texas 78629 or phone for more information at 830-672-6532
Johnson City TX – The LBJ Boyhood Home will be open for lamplight tours Saturdays from November 24 through December 15, with a special evening (December 8th) showcasing Christmas traditions from the 1860s through the 1960s in the Johnson City community from the time of LBJ's grandparents through his presidency. National park rangers will be providing tours of this historic house from 6 pm to 9 pm. Free admission. Additionally, across the street from the LBJ Boyhood Home, Pedernales Electric Cooperative will light up the live oaks with thousands of tiny white lights and the Blanco County Courthouse, two blocks north on Avenue G, will be the site of Johnson City's "Lights Spectacular ~ Hill Country Style" (Nov. 23, 2018 through Jan. 6, 2019).
La Grange TX – Celebrate Christmas Early Texas German-style at the La Grange Texas Trail of Lights and Tour. Take a tour of the the historic 1850's built Kreische House, December 6, 12, 13, 19 and 20. The Kreische House is located at the Monument Hill and Kreische Brewery State Historic Site, a state park run by the Texas Parks and Wildlife Dept. at 414 State Loop 92 La Grange Texas 78945. There is an entrance fee to the park. This is one of my favorite state parks because of the nature trails, the old Kreische Brewery ruins, the German pioneer Kreische House, and beautiful Monument Hill where the tomb of many Texas heroes is located. The Kreische House is available to see on Guided Tour from January to November on Sundays. German immigrant Heinrich Kriesche bought 172 acres in 1849. He built the home and also a fantastic spring fed beer brewery made from stone.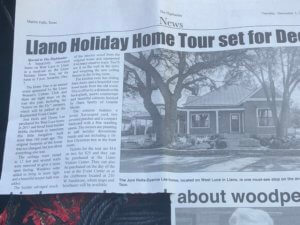 Llano TX – Llano has a Holiday Home Tour. The 2018 date is December 1st, 12 pm – 5 pm. Tickets are $14 each or two for $25. Be sure to get your tickets from any Llano Woman's Culture Club member (210 E Sandstone St, Llano, TX 78643).
Lockhart TX – Lockhart Texas Holiday Tour of Homes is being held December 1st, 1 pm – 5 pm, in conjunction with the Dickens Christmas celebration. The Alpha Psi Beta Chapter of Beta Sigma Phi Sorority is sponsoring the historic home tour and tickets can be bought from the Lockhart Chamber of Commerce, First Lockhart National Bank, or through any Beta member.
Mason TX – A Pioneer Christmas is the featured historic homes holiday tour in Dripping Springs. Dr. Pound's Farmstead, built in 1854, will play host for bluegrass holiday music, local vendors, make-and-take holiday crafts, wagon rides and pictures with Santa by the covered wagon. Tour the house especially decorated for an old-fashioned Christmas.Tickets are $5.00 each, Age 4 & Under is free. Tickets sold at the gate.

The Reynolds – Seaquist House in Mason, Texas has tours on the first Saturday of every month. Originally built in 1887, this classic Victorian was expanded twice in 1891 and 1919. Check their website for tour schedules.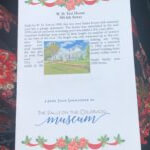 Marble Falls TX – There is a Victorian Christmas Historic Home Tour in Marble Falls Texas Saturday December 7th 2019 6pm to 8pm. Victorian Christmas Historic Home Tour tickets are available at The Falls on the Colorado Museum at 2001 Broadway in Marble Falls Texas. The museum is sponsoring the tour.
The Falls on the Colorado Museum is open from Thursday through Saturday from 10 am – 4 pm but call because sometimes they are open later.
The Falls on the Colorado Museum phone number is 830-798-2157
Pflugerville TX – Heritage House Museum is the scene of The Heritage House Partners' annual Christmas Open House in Pflugerville. Heritage House will be decorated for the holidays and you can also enjoy music, refreshments, and pictures with Santa! 901 Old Austin Hutto Rd. Pflugerville, TX.
Round Top TX – Round Top Texas Christmas Tour of Homes is being held December 1, 2018 from 10:00 am to 4:00 pm. Tickets are available at the Round Top Area Chamber Office in Henkel Square. Round Top's first resident, the Stephen Townsend family, settled in the Round Top Texas area in 1826. Later Stephen Townsend bought land on the Cummins Creek where my earliest family started in Texas in the 1830's.
San Antonio TX – The Christmas Market at the At Home in Monticello Home Tour lies within San Antonio's Monticello Historic Park District. This year's event is Sunday, December 2, 2018 from 11:00 am – 5:00 pm. Tickets ($15.00 per person for advanced sales; $20 on the day of the tour; Children under 12 receive free admission) are available at 758 Donaldson Avenue (Jefferson United Methodist Church) for pick-up/purchase on the day of the tour. Tickets purchased online must be exchanged for a tour booklet on the day of the tour. Proceeds benefit neighborhood restoration grants and scholarship program.

San Marcos TX – The Heritage Association of San Marcos Texas is holding its 2018 Heritage Home Tour and associated events May 4th through the 8th 2018 in San Marcos Texas. The 2018 Historic Homes tour includes Greek Revival, Mid Century Modern and Classic Ranch architectural styles. Click the link above for information on other tours and events. My grandfather, Dr. Carl William Raetzsch practiced medicine on the San Marcos Square in the early 1900's. My father, Carl William Raetzsch Jr. was born in San Marcos.
Seguin TX – Don't miss Seguin's 27th Annual Holiday Heritage Tour of Homes, Saturday, Dec. 1, 2018, 1 to 5 p.m. This event has tours of seven beautiful locations. Advance tickets– $15 per person; $20 at the door. Tickets may be purchased at Gift and Gourmet Shop at 212 S. Austin, Seguin Area Chamber of Commerce at 116 N. Camp Street or Keepers Interiors, 615 N. Austin. Additionally, tickets can be purchased online at www.thetexas.org. This event is sponsored by The Seguin Conservation Society.
Taylor TX –  Has Historic Homes Tours December 1st and 2nd.
Taylor Texas is located just northeast of Austin Texas and due east of Round Rock and Hutto Texas. Taylor is well know for having a great Historic Downtown entertainment district as well as many historic residential homes around town. Taylor Texas has a Historic Home Tour almost every December. Contact the Taylor Conservation and Heritage Society for more information. You will enjoy the many historic commercial buildings and churches as well like Judy Blundell's McCrory Timmerman Restoration Project at 201 N. Main Street. I have been on the tour more than once and always enjoy seeing the historic homes there. I usually make my own add ons to the arranged public tour by previewing vacant historic homes. There are some perks to being a REALTOR and one is being able to preview homes just to relish their fineness and craftsmanship. Come tour historic homes with me and I will take you as well! To buy or sell Historic Taylor TX homes call Betty Saenz Historic House Specialist at 512-785-5050 or
e-mail Betty Saenz.
Taylor Texas Historic Homes
Taylor Texas Historic homes include a variety of architectural styles and periods of construction. Historic home architectural styles can be Neoclassical, Victorian, Folk Victorian, Craftsman and more. I have toured and shown some truly amazing historic homes in Taylor Texas. There is a historic home wedding venue on acreage that is quite amazing.
Mid-Century Modern Homes in Austin Texas
Below is a collection of photos I took on the Mid-Century Modern Home Tour held by Preservation Austin in April of 2014 called Austin 1964. There were some amazing Mid-Century Modern Austin Texas homes on the tour. I really enjoyed it!
Call Betty Saenz Historic House Specialist at 512-785-5050 to buy or sell a historic home. Check back here to find out about the latest Texas Historic Home Tours or to come along with me! We'll have fun and see some EXTRA homes! e-mail Betty Saenz