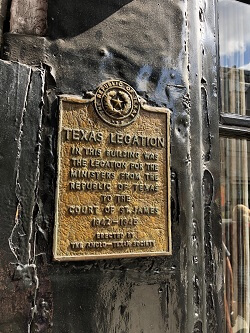 On my recent trip to England, Texas was never far from my mind. I made some stops at historical places related to the story of Texas. Here's a photo of my visit to 4 St. James's Street in London. Many interesting people have stayed here over the years. It served as the unofficial embassy for the Republic of Texas during the 1830's and 40's.
While Texas was an independent republic from March 2, 1836 to February 19, 1846, Texans lived under the constant threat of a new Mexican invasion to reclaim their lands. The government needed international support to help defend itself.
They opened the Texas Legations in Washington DC, London, and Paris. A legation is a diplomatic mission a bit less formal than an official diplomatic embassy. While the Washington mission pursued statehood, the legations in London and Paris sought military and diplomatic assistance to preserve the integrity of its borders.
Some scholars believe the London and Paris Legations were not a serious attempt by Texas to enter the international community but more of a political maneuver to prompt American officials to worry about possible British or French soldiers establishing a base on the southern border of the United States.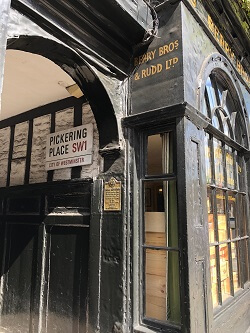 The British Empire supported an independent Texas and even offered to guarantee Texas's borders with both the United States and Mexico. The British would have considered Texas as a tactical ally to counterweight the United States. The London and Paris Legations were closed when Texas became a state in 1846.
The Anglo-Texan Society was founded in London in 1954. They erected this plaque in 1963 to remember the Republic of Texas Legation.