Marfa Texas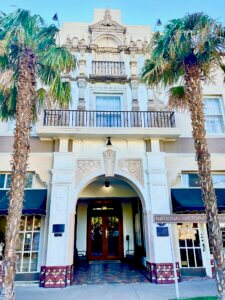 One of my ancestors, Gus Raetzsch, was Mayor of Marfa Texas back years ago so I have some family history there. I recently stayed at the historic Paisano Hotel there.
Marfa is in Presidio County, is at the junction of US Highway 90 and 67 in the northeastern part of the county. It was established in 1883 as a water stop and freight headquarters for the Galveston, Harrisburg and San Antonio Railway. The town was named after a character in a novel when the wife of a railroad executive suggested the name from the book The Brothers Karamazov. Marfa has a history of attracting creative spirits.
Marfa is a city in the high desert of the Trans-Pecos in far West Texas, between the Davis Mountains and Big Bend National Park. Marfa is close to Fort Davis Texas where the University of Texas has the McDonald Observatory and the Fort Davis National Historical site is. I love to stay at the historic Indian Lodge at the State Park in Fort Davis, Texas. Marfa Texas is known for the mysterious Marfa Lights and has an observatory  or platform just off the highway to catch a glimpse of them.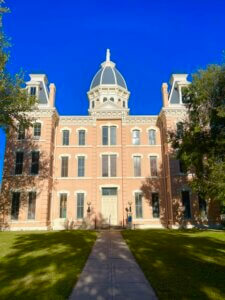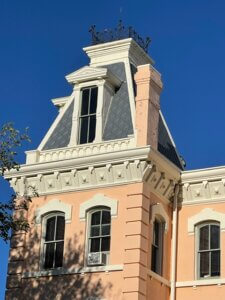 The 1886 Second Empire style courthouse with Italianate details is the design of Alfred Giles.
The interior and the overall exterior form and detailing remain remarkably intact. The building's most significant alterations occurred in 1915 and 1925 with the plaster coating of the exterior porous brick.
The grant project called for site repairs, ADA modifications, full roof, dome and statue restoration, and updated systems.
The building was rededicated on Jan. 5, 2002.
– Texas Historical Commission